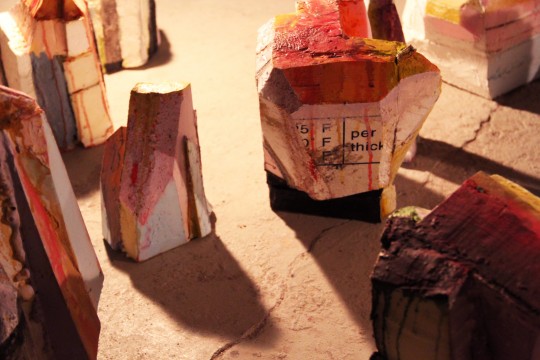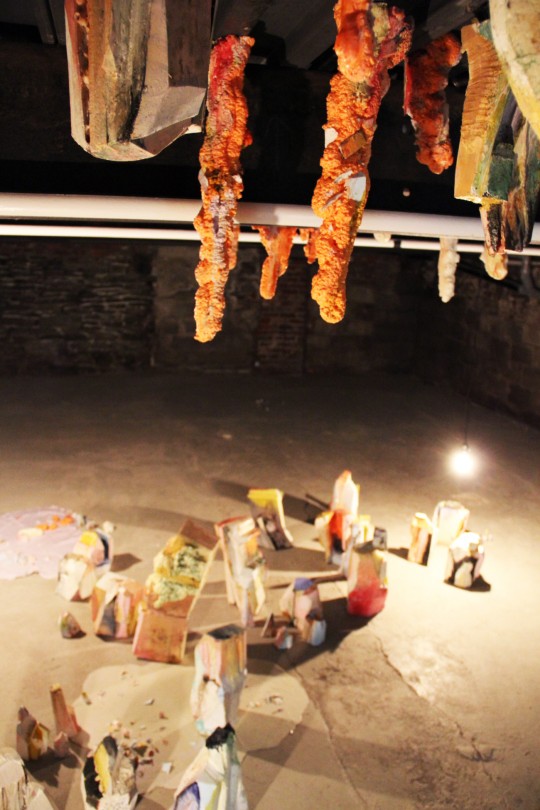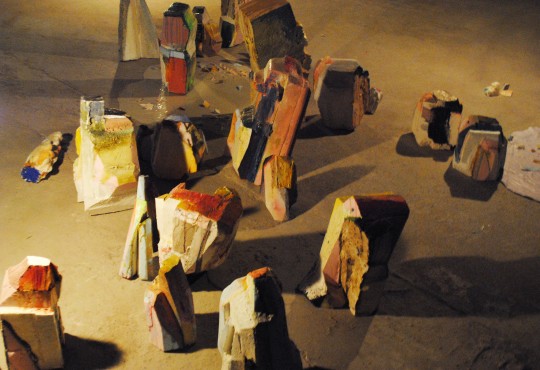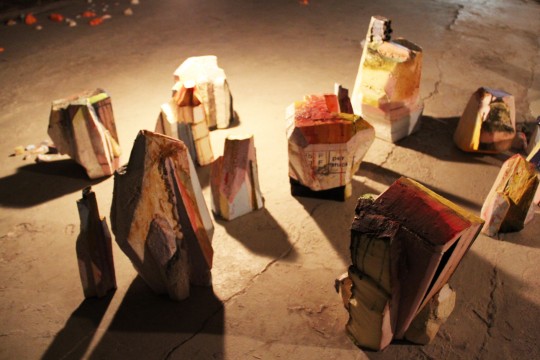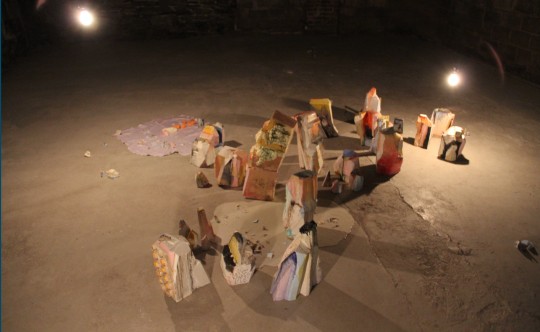 November 18 – December 10, 2011
XPACE Cultural Centre
58 Ossington Avenue
Toronto, ON
blog.xpace.info
Interview by Staceylee Turner
The creation of stalactites and stalagmites is a marriage of binary form through tandem energy.  Time, gravity, water and mineral sediment create fantastic caves, thick with spikes and spires:  incomplete labyrinths with infinite solutions.
Artist Kuh Del Rosario has captured the marvel of the natural world here with Synthetic Phenomena, the enforced naturalization of a man-made space. Using Styrofoam and other artificial materials, Xbase has been transformed into a cave of wonder, with speleothems growing up from the ground and dripping out of the ceiling. It is an immersive representation of nature, contradicted by the synthetic materiality of the artists' choosing.
Del Rosario's synthetic speleothem (cave deposits) are a result of building on top of one another Styrofoam and wood off-cuts in resemblance to the natural layering of lime as it gradually produces stalactites and stalagmites. It is an additive process, much like an urban area builds on top of its past self.  It is a constant restructuring of man and nature that Del Rosario channels here by using man-made media to produce that which is found in nature.
Del Rosario's immersive space is visually contrasting to the urban world under which it resides. Synthetic material intended for the man-made is now organic, surrounding the visitor as these peculiar deposits that appear to grow out of the building's framework.
All man-made structures are truly synthetic in their construction regardless of material. From iron buildings to mud adobes, there will always be a hand that wields its construction. Natural construction, however, is the result of organic adaption (natural or otherwise), such as coral growing along a copper wire or a wasp's nest attached to a house. Del Rosario's work is a reversal in the urbanization of natural habitats whereas, instead of building something artificial on top of nature, she has built nature on top of the artificial; in creating these organic forms out of unnatural products, however, the artist has also effectively developed a naturalization of synthetic media.
Q AND A HERE