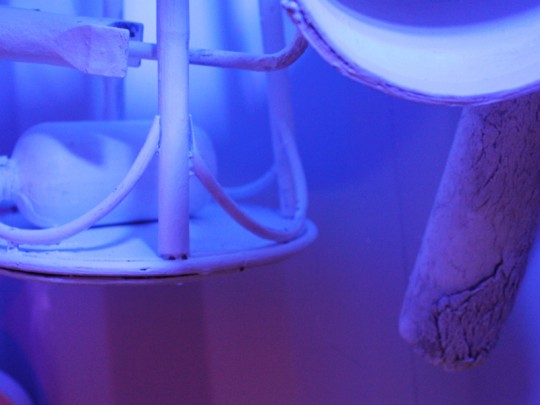 July 20-22, 2012
Your Kontinent . Richmond International Film & Media Arts Festival 
Richmond Cultural Centre 
7700 Minoru Gate
Richmond, BC V6Y 1R8
ykfestival.ca
Damp Mythology of Awakened Detritus is a video and sculpture collaboration between sculptor Kuh Del Rosario and New Media Artist Frances Adair McKenzie. In this project, the artists transform the interior of a shipping container into an immersive experience of visuals and sculptural environment. 
Analyzing the diverse cultural heritage of Richmond BC, surrounding ideas of immigration, containment, shipment and object-hood, the project utilizes found objects within the area that become symbols for these themes. Painted white to impose a visual stillness, the harnessed detritus used in the sculptural installation become animated by the digital manipulation projected on to it. Muffled sounds reminiscent of underwater exploration surrounds the viewer to complete the experience. 
Damp Mythology of Awakened Detritus is a spectacle resonating manipulated truths about history and the telling of shared experiences anchored by place and time.